Amateur Radio News... (cont.)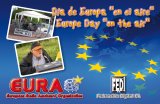 This year, 9 May is on Sunday, but we will be active from Friday 7 until Sunday 9, the whole weekend, with the special callsigns: AO1EU, AO2EU, AO3EU, AO4EU, AO5EU, AO6EU, AO7EU, AO8EU and AO9EU, to commemorate the creation of the EU in 1950.
As usual, special QSL and Award will be available. Contact also valid for the Radio Clubs of the World Award, EANET.
Follow the event through the hashtag: #eudota.